In what we help?
Self-knowledge and the frequent fine-tuning of your self-image is crucial to successful leadership.
The senior management status can often cause isolation, while the respect of the status quo can result in limited feedback that may hinder efforts to progress.
We use a confrontative technique in the program: the leader in focus chooses and invites workshop participants (direct and remote team members) who will provide immediate feedback.
The training is inspirational, and the methodology presents a new perspective on leadership challenges. It structures the aspects of feedback, and builds on behaviours defined in corporate and leadership values. The program has many organizational benefits as well; it strengthens trust and co-operation in the team, supports the development of the leadership and feedback-based corporate culture, and helps consolidate a constructive and transparent collegial environment.
How do we help?
Specific, objective, behavior-based feedback for the focus person. Direct co-workers evaluate the focus person with a quantitative questionnaire created in line with the corporate/managerial values. We compare the results with the focus person's own rating. (Figure 1) Expanding the workshop to a broader range of executives will allow for a return of investment on the organizational level. If more leaders participate in the program, we can systematize their points and interpret the company's culture quantitatively (Figure 2) The program supports the development of a feedback culture, leadership self-knowledge, and the personality development-based strengthening of authentic leadership behavior.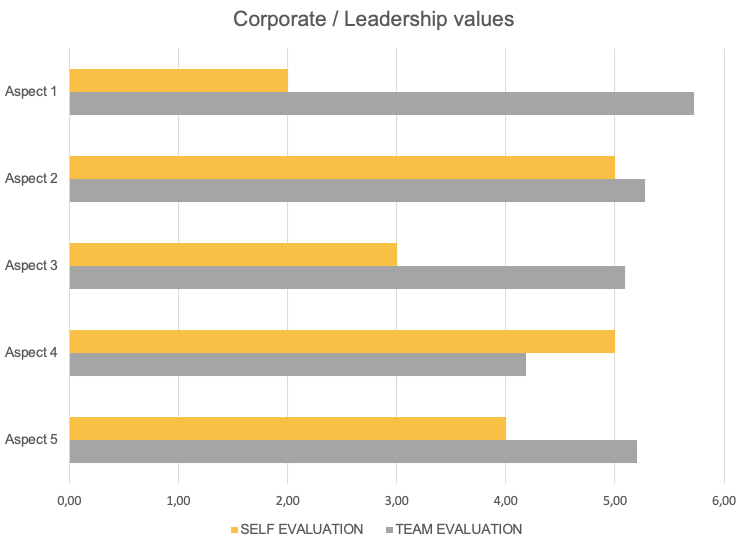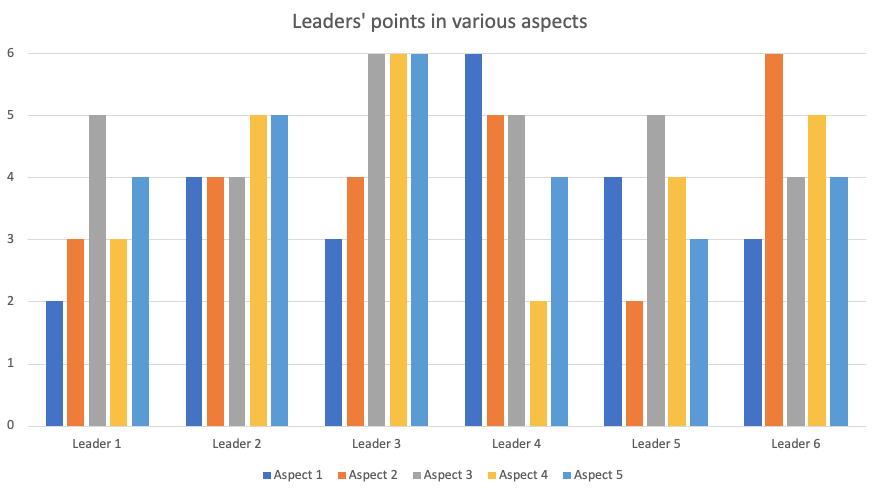 Leadership in Spotlight
Duration: 3 hours
Number of participants: focus person (leader) and up to 15 colleagues (direct and remote team members) Background material:
Visually displayed quantitative assessment along the corporate/leadership values for the focus person that indicated their personal direction of development (Figure 1).
Visually displayed, anonym, quantitative assessment about the participating leaders' teams, along specific markers describing the teams' operation (Figure 2). The assessment is made by the trainer based on their observations during the workshop sessions.
Planning, delegating tasks, setting priorities, fine-tuning strategy: executives must successfully coordinate and implement complex tasks – often with minimal feedback. Our "Leadership in Spotlight" training uses an inspirational methodology to develop the self-reflection and self-knowledge essential to successful leadership, as well as to create a professional feedback culture.